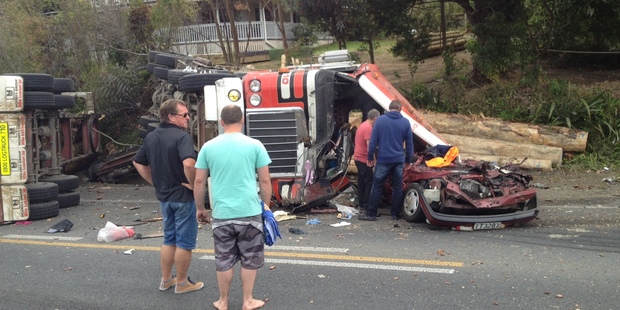 Northland's grim road toll continues after a woman was killed when a logging truck, trying to avoid another vehicle, rolled and crushed the car she was a passenger in.
Highway patrol Senior Sergeant Chris Goodall said there were multiple calls to the police communication centre alerting them to the crash on the southern side of Lookout out Hill, near Whangarei, about 2.20pm today.
A St John Ambulance spokesman said three other people involved in the crash had been taken to Northland Base Hospital with moderate injuries.
Senior Sergeant Chris Money said the logging truck and one of the cars were still to be removed.
"The road will be closed for some time,'' he said.
The latest fatality came only hours after police named a Dargaville teenager who was killed on Sunday when the car he was in crashed off the road. He was Anthony Charles Matich.
Two others from the crash involving seven people in one vehicle remain in critical condition.
Northland's road toll is now 14 - double the region's record low of seven fatalities in 2012.