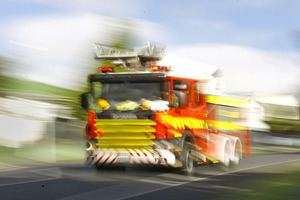 A sleeping Omokoroa couple are lucky to be alive after firefighters were forced to smash their way into a four-storied home after a firework - one of several aimed at the couple's home - set fire to their roof.
The retired couple were asleep when Omokoroa Volunteer Fire Brigade members arrived about 10pm on Friday evening having been alerted by neighbours and on arrival found part of the upper level of the house ablaze.
Bay of Plenty Fire Safety Officer John Rewi said the fire was put out fairly quickly and caused minor damage.
"But (it) could have been far more serious or even fatal for the home owners."
The fire started on the fourth level of the house, Mr Rewi said.
"The firework was jammed in between the roof iron and the ridge going up to the next storey."
"It could have been an entirely different outcome for this couple, as we know it's usually smoke inhalation which kills people, not fire," he said.
As soon as the fire brigade smashed their way into the house, the male occupant woke up and ran downstairs only to meet the firefighters as they were coming up, Mr Rewi said.
"The home owner was a bit red-faced as the smoke alarm close by hadn't gone off as it had a flat battery ... I bet he has gone out today to buy lots more smoke alarms and batteries."
The house was insured.
Mr Rewi said the couple's property had been pelted by fireworks on Friday night, including one which landed on their balcony.
He found 4-5 spent fireworks on their section.
Mr Rewi said the number of firework-related fire incidents this year had been fewer than last year due to tighter restrictions.
"But I do question why people are being allowed to let off fireworks a week after Guy Fawkes Day when there is a fire ban in place."
When approached for comment by the Bay of Plenty Times the home owners said they did not wish to be identified.
But the man said they were annoyed about what had occurred.
He knew who was responsible for pelting their property with fireworks including one which was lit and landed close to their ranchslider.
"We are lucky to be still alive," he said.
Mr Rewi said it might be time to consider a total ban on the public sale of fireworks.
On Saturday night there was also a small fireworks-related vegetation fire at Okney Rd in Mount Maunganui which was put out by a resident with a garden hose.
Last week an Apata farmer called for a total ban on the public sale of fireworks following what he described as another year of Guy Fawkes "hooliganism".
Gary Haakma earlier told the Bay of Plenty Times that his animals panic when the fireworks start going off.
For more articles from this region, go to Bay of Plenty Times