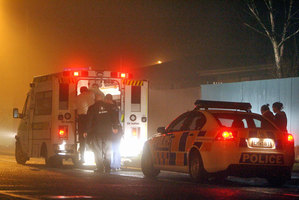 A teenage man died and two others were seriously injured after a car believed to be carrying seven people rolled south of Dargaville, throwing six occupants from the wreckage.
Emergency services rushed to the scene of the crash on Pouto Rd, just south of Mount Wesley Coast Rd about 1.35am yesterday.
Police believe alcohol and excessive speed may have contributed to the crash.
Initial reports suggested two people may have been travelling in the car's boot or hatch and all bar one person in the vehicle were understood to have been thrown from it.
Anthony Charles Matich, 19, of Dargaville, died at the scene.
Sergeant Maria Nordstrom, of Dargaville police, said seven young people were believed to have been in the north-bound Subaru car when it crashed off a moderate "S" bend on the road and landed on its roof in a deep ditch beside the road.
Two passengers were airlifted to Whangarei Hospital with serious injuries. Two rescue helicopters from the Northland Emergency Services Trust attended the crash scene and late yesterday morning one of the choppers transferred the two seriously injured men from Whangarei to Auckland Hospital because of the nature of their injuries.
Three other men were taken by ambulance to Dargaville with moderate injuries.
Firefighters from Dargaville had to cut one man from the wreckage using the jaws of life and Pouto Rd was closed for several hours while emergency services staff cleared the scene.
Ms Nordstrom said the weather was fine, the road dry and traffic light at the time of the crash.
The crash brought the number of fatalities on Northland's roads in 2012 to 13, almost double last year's record low road toll of seven.
Anybody with information on the accident, or who may have seen the Subaru travelling on Pouto Rd before the crash, can contact Dargaville police on 09 4393400.
For more articles from this region, go to Northern Advocate