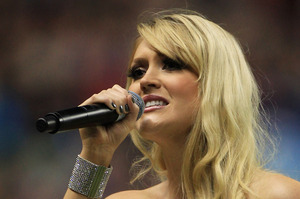 The girlfriend of England's rugby captain will sing the New Zealand national anthem when the teams play at Twickenham in three weeks.
Camilla Kerslake, a New Zealand-raised classical singer, said she was firmly behind the English team despite being asked to sing God Defend New Zealand on December 1.
"I hope the boys will forgive me," she told Britain's Daily Mail.
She has been dating England captain Chris Robshaw for two years.
Kiwi musician Moana Maniapoto said Kerslake had better make a good job of it or her boyfriend would get a "hard time from both teams and countries".
"If she mucks up the Maori pronunciation, then she will be in trouble."
Maniapoto added that, musicially, it was not the most exciting anthem.
"I doubt even Adele could rock that anthem. There's certainly been the odd New Zealand singer who's made a hash of it. It's not something I'd leap at."
Kerslake, 24, lived in New Zealand from ages 1 to 8. While studying music in the UK, she sent former Take That star Gary Barlow demos of her music every day for months until he signed her to his record label. She has starred opposite US teen heart-throb Nick Jonas.
Kerslake was also singing the English anthem at the game against Fiji being played overnight. Her management did not respond to interview requests.
Robshaw was appointed England captain after the country's disastrous showing in the Rugby World Cup last year.
The couple live together in Kingston, southwest London.