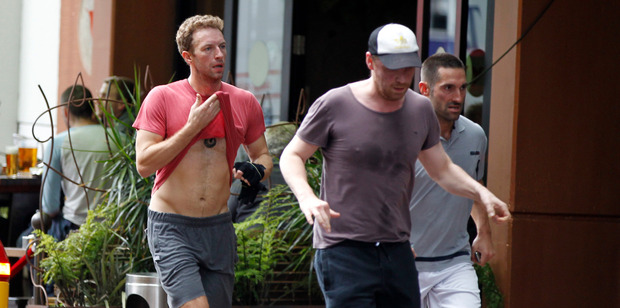 Coldplay frontman Chris Martin was hot at play in the city this week before last night's packed stadium show at Mt Smart Stadium.
Martin preferred jogging in his leisure time, appearing to shun the freebies visiting rockers and celebrities are often wooed with here.
Auckland Tourism, Events and Economic Development (Ateed) typically offer top acts a portfolio of complimentary trips and activities.
The tourism organisation hopes to get word out to massive overseas audiences who follow the stars' social media sites.
"Celebrities push out positive messages on Twitter and Facebook that are seen by millions," Jason Hill, Ateed acting general manager of destination, said. "The key to getting the right message over is it has to come from a credible and authentic source. "
Favourite activities for visiting stars are trips to wineries on Waiheke Island including Stonyridge, Mudbrick and Cable Bay, plus jaunts on an America's Cup yacht, Hill said.
British musicians New Order took a spin around Waitemata Harbour with Auckland Adventure Jet before a concert at the Vector Arena in February.
Ateed has only a small budget for celebrity tourism activities and relies on individual operators offering services for free, Hill insisted.
A big recent success was inviting popular Chinese television actress Dong Xuan for a packed itinerary. Dong is an extensive blogger and social media user with a fan base of more than 3.2 million on Weibo, the Chinese equivalent to Facebook.
Last night, a delighted Martin shouted to the crowd after the first few songs of the show: "It appears we had to wait 18 months of our tour to play the greatest crowd we've ever played." He dedicated the hit song Yellow to the Pike River miners and Christchurch earthquake victims.
About 100,000 Kiwi music fans have shelled out more than $8 million for tickets to see gigs in the past two weeks by big names such as the Black Keys, Ben Harper, Radiohead, Mumford and Sons, and Coldplay.
Manolo Echave from Chugg Entertainment, which promoted last night's Coldplay show, said travel-weary bands appreciated organised activities.
He revealed Radiohead arrived in New Zealand almost a week before their gig at Vector last week and Coldplay also touched down a few days ahead of schedule.
"Auckland is now becoming the place for rock musicians to hang out and relax during a break on a gruelling world tour," Echave said.
However, big outdoor stadium shows are becoming fewer and farther between. The last big outdoor rock headliner was U2 at Mt Smart in November 2010.