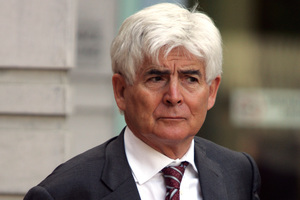 Disbarred lawyer Barry Hart has been found guilty of unsatisfactory conduct and fined $10,000 for ignoring a client and failing to progress her case for four and a half years.
It is the latest embarrassment for Hart, who was struck off by the Law Society in September for overcharging clients in a separate misconduct case. He is also fighting moves by the ANZ bank to bankrupt him over a $30 million debt.
In the latest case, the Legal Complaints Review Office named and shamed Hart, a rare move in itself, saying he had compromised his client's chances of victory and caused her "considerable distress".
The woman, known only as RI, approached Hart in 2006 after an alleged biopsy botch-up by a gynaecologist resulted in her daughter having "unnecessary and invasive" surgery.
She paid Hart $15,000 to prepare a lawsuit against the doctor and claims she was told they had a good chance of winning the case.
As they tried to build their case, RI found evidence from three laboratories backing up her claims.
Hart agreed to look for further evidence but failed to do that, the review office said. Email correspondence between the two revealed increasing "frustration, annoyance, anxiety and bewilderment on the part of RI", the office said.
The Law Society's Standards Committee initially dismissed the complaint and Hart said he would appeal the latest decision.