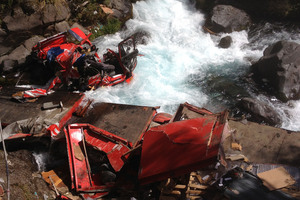 The driver who died when his truck crashed into the Waihohonu Stream on the Desert Rd stream early yesterday has been named.
The body Dave Budge, 51, from Porirua, was found last night.
Mainfreight Ltd managing director Don Braid said everybody at the trucking firm was feeling the loss of its driver, who was known to friends and family as Budgie.
"To lose a driver, it's devastating for us. We're a pretty close family and everyone knows everybody, Our team have been magnificent trying to come to grips with it and do the clean-up and work around the incident so hats off to them.''
He said the company had employed divers from Wellington to clean up the stream. A crew had also been working yesterday and today tidying up the riverbanks and clearing away all the rubbish. He said the company saw the clean-up as part of its responsibility, and expected the work would be completed by the end of the day.
Water samples from the stream are being analysed to see whether any water contamination occurred when
Waikato Regional Council emergency response manager Rob Dragten said the samples were presently at the lab, and while preliminary results might be available later today, final results would not be available until next week.
However he did not expect the water samples to show any contamination.
"The indications we've had from the scene and the assessments of where the hazardous material was, we don't expect to find anything. The samples are really a double-check just to confirm that our expectations are correct.''
At the crash site, a clean-up team has been clearing the rubbish from the riverbank and stream.
Garth Oakden of Turangi-based Tongariro River Rafting said the company was back operating on the Tongariro River today. It had been participating in a New Zealand Rivers Association rescue course on the river yesterday when news broke of the crash. The rescue course had been moved from the Tongariro to the Whakapapa River and rafting on the Tongariro was temporarily suspended as a precaution.
Local hapu Ngati Hikairo is considering holding a blessing at the accident site.
- APNZ