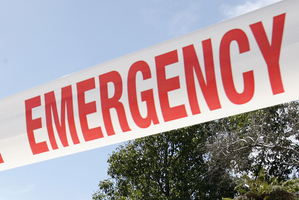 Dairy products are spilling into the Awakino Gorge on State Highway 3 after a serious milk tanker crash this morning.
Emergency services were called to the crash, just south of the tunnel in the Awakino Gorge about 5.30am.
The driver was trapped for about an hour before being flown to Taranaki Hospital with serious chest injuries, Radio New Zealand reported.
The truck was carrying evaporated whey permeate, a dairy by-product used in making cheese. Milk and other similar dairy products are toxic to fish and aquatic life.
Waikato Regional Council emergency response manager Rob Dragten said the tanker has lost almost all of the 25,000 litres of the dairy product.
"We will work closely with emergency services to look at what we can do to prevent environmental damage in the wake of this accident," said Mr Dragten.
NZTA said the road is down to one-lane this morning, but will be closed at intervals this afternoon as a crane is used to remove the truck in three sections.
Highway network operations manager, Karen Boyt, said the only alternative route is via SH4 to Wanganui.
"This could add significantly to journey times depending on people's destinations - so motorists may instead prefer to plan their journey to avoid the closure period or to wait at Awakino and go through when the road reopens between each operation," Ms Boyt said.
The crash comes less than 24 hours after a fatal truck crash on the Desert Road where a small amount of toxic chemicals spilled into the Waihohonu Stream.
- nzherald.co.nz and Newstalk ZB