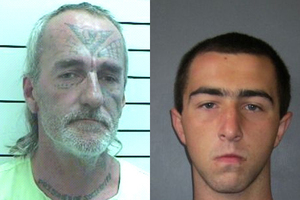 Two high-risk offenders have escaped from their Christchurch parole address and police are continuing to call for information or sightings.
Ivan Andrew Campbell and Jaydon Galland left the Salisbury Foundation early Wednesday morning. Police say they have links to Christchurch, Ashburton and the West Coast.
Detective Senior Sergeant Tony Hill says two sightings of the men have been reported to police.
"We are actively following up these sightings, which were in different locations in and around the greater Christchurch area," he says.
They say Campbell has multiple convictions for sexual and other offences and is currently on parole after an 11-year prison term.
Campbell is described as Caucasian, of medium-thin build and has extensive tattoos on his face, neck and arms.
Galland is described as Caucasian of medium build.
Any sightings of the men should be reported urgently to police by phoning 111, or Christchurch police on (03) 3637400.
- Newstalk ZB and nzherald.co.nz