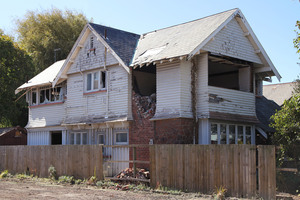 Sickness beneficiary Brian Tyler, 38, has lived on the streets on an off since he was 14.
He says now is the hardest it has ever been for streeties like him.
Mr Tyler has been a drug addict, is battling depression and is no stranger to prison.
He and four others, plus two dogs, have just been kicked out of their Christchurch home - a 3m by 4m shed at the back of a red stickered property in Hereford St near the City Mission. Demolition is about to start.
Before the earthquakes, he said he would be able to find a place in the inner city east, but now there are no options.
And the streets are not safe - not even for an "old" streetie like him.
"There are too many people out here - it's not safe, not even safe for me. Anything could happen. It is the battle of the fittest out here on the street.
"There are too many streeties and gang members out here. They steal from each other... rip each other off, do what they gotta do to survive," he said.
Mr Tyler says the solution was to start rebuilding the lost 250 beds in the inner city east.
"We need to get low income single person studio apartments rebuilt - not bedsits, bedsits is where people can kick in your door, with studio apartments it is fully self contained and you can lock your door. You don't get chased out by gang members," he said.
Streeties needed to be close to social services in the central city, especially the City Mission, but the earthquakes had forced streeties to seek shelter in other suburbs causing them to be unsupported, he said.
"The earthquakes have scattered all the streeties all over the place in all sorts of accommodation," said Mr Tyler.
"There are people living in damaged houses, on the streets, parks."