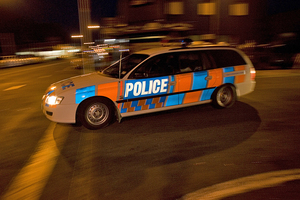 Two barstaff and four patrons were forced to the ground in a terrifying late night armed robbery in Christchurch.
Two masked gunmen jumped a back wall and entered through the rear of Sideline Bar on Stanmore Road in Richmond between 11pm and about 11.30pm last night.
They yelled at those inside to get on the floor, owner Terry McIntyre said.
One of the two female barstaff was then forced to open the safe.
The two gunmen escaped by jumping back over the wall and made off with a unknown sum of money.
Shaken barstaff rang the pub's owners and then the police.
First-time pub owners Terry and Sonya McIntyre said they were in bed when they received the call.
"We just jumped straight in the car, I still had on my pyjamas," said Mrs McIntyre.
They arrived just before eight armed policemen entered the building.
Mrs McIntyre said one of the staff was very distraught.
"We both just feel overwhelmed with guilt that it was the girls and not us," she said.
The bravery of the two staff members and patrons were commended by Mrs McIntyre.
"We're not the heroes in this, they are. We really can't praise them enough," she said.
The McIntyres had owned the pub only for 11 months and had recently spent money on security.
"But when a person has a gun it makes no difference what safety precautions you take," said Mrs McIntyre.