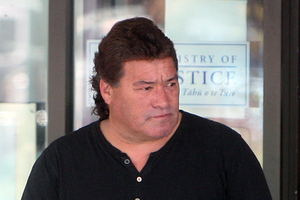 A Rotorua painter has admitted a charge of obtaining by deception after he was paid $400 for a paint job he did not do.
Nicholas Russell Matenga, 49, appeared before a Community Magistrate in the Rotorua District Court yesterday and pleaded guilty to a charge of obtaining $400 by deception.
According to the police summary of facts, Matenga walked into the Ranolf Bakery in December last year when the owner was preparing for the bakery's grand opening the next day.
Matenga introduced himself to the owner and walked around the bakery, looking at the fresh paint work. He made comments implying the work had not been done properly and said he had over 25 years' experience.
Matenga said he had a big job on but it was outside work that he could not complete because of poor weather.
The owner told Matenga the interior of his Owhata bakery needed painting and asked if he would be interested in doing that work.
Matenga agreed and said he would come back the next day with a quote and to complete the job the same day. Matenga arrived at the owner's Koutu bakery the next day and they agreed on a price of $1000 and Matenga asked him how he was going to pay.
The owner said he would pay Matenga when he finished the work. After negotiating the bakery owner said he would pay Matenga once he had completed half of the work which Matenga agreed to and left.
Matenga went to the grand opening of the Ranolf Bakery and a short time later went back to that bakery and again asked the victim for some money so he could start the work.
The owner became frustrated and gave Matenga a cheque for $400. Matenga said he would go and buy the paint straight away and complete the work. The bakery owner did not see or hear from Matenga again.
Matenga was spoken to by police in July and he told them he was going to do the painting but the bakery owner no longer wanted his services. Matenga also said a friend of the bakery owner told him not to go near the victim so he had no opportunity to return the money.
Matenga's lawyer, Wiremu Te Are, said Matenga was previously before the court on similar offending in 2010 and had been trying to "make a go of things" since. Matenga was a solo father with the care of a child. Mr Te Are said Matenga knew he was at fault and was remorseful. Matenga wanted to "make good" by paying reparation.
Community magistrate Sherida Cooper said Matenga's history showed this was the way he operated and he had ample opportunity to improve. She sentenced him to 80 hours' community work and ordered him to pay reparation of $400.
For more articles from this region, go to Rotorua Daily Post