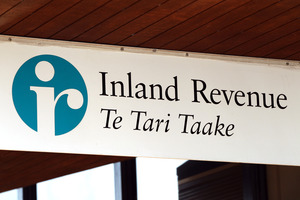 A Featherston man who owes Inland Revenue more than $170,000 has been ordered to repay just a fraction of his debt.
Cecil Barnes Sinclair, 62, of Featherston, was convicted of 91 tax evasion charges at Masterton District Court on Monday.
He was sentenced to eight months' home detention, 150 hours' community work and ordered to repay $10,000 at $50 a week by Judge Peter Hobbs.
The charges included five charges of failing to file income tax returns and one charge of failing to file GST returns.
Judge Hobbs said that in one incident, Sinclair had a labour construction business and employed eight or nine people from April 2004 to March 2006.
He did not deduct PAYE from employees' wages for this period or register for GST, and the GST was not refunded to Inland Revenue.
Between 2006 and 2008, tax was filed late and Sinclair owed more than $80,000.
He had underestimated the company's income and claimed he had no employees at one stage.
"There was a considerable amount of tax evaded," said Judge Hobbs.
"The victim of tax evasion is the community."
He said Sinclair needed to be held to account for the harm he had caused.
"You do not seem to understand the seriousness and importance of meeting your tax obligations."
Inland Revenue lawyer Roslyn Park emphasised the seriousness of the offending as the tax system was based on "voluntary compliance".
She said Sinclair had built up a debt of over $170,000 - including interest and penalties - over a five-year period and had given the department "misleading information".
For more articles from this region, go to Wairarapa Times-Age