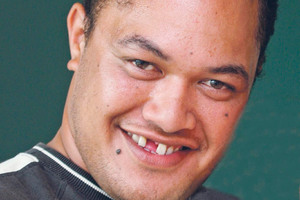 A dangerous prisoner who was granted bail to attend his son's funeral has disappeared.
Joseph Tira Rangi, 30, pleaded guilty in Hastings District Court yesterday to a charge of wounding with intent after he punched his partner in the face 12 times and bit her cheek so hard the skin was left flapping.
Rangi was remanded in custody until next month for sentencing but Judge Heather Simpson granted him bail for the day to attend the funeral of his 15-year-old son Legeon, who died in Hawkes Bay Hospital this month.
He was bailed into the custody of a local minister and was required to return to Hawkes Bay Prison at 5pm yesterday.
A hunt was launched after he failed to turn up.
Police have a warrant for his arrest and appealed for sightings.
Detective Sergeant Darren Pritchard said Rangi was dangerous and the public should not approach him.
"We have been searching various properties in the area looking for him, including Wanganui where he has family connections. We would urge anyone who sees this man to notify police immediately and not to approach him,'' Mr Pritchard said.
Police also had concerns for the safety of Rangi's victim, who police had not been able to contact.
The court was told yesterday that Rangi's attack on his partner, in Wanganui in September, happened during a visit to his parents.
The woman had tried to take a drink off him before he lashed out.
She instinctively hit him back, triggering the violent assault in which he punched her at least a dozen times in the face.
To stop her screaming, he removed her scarf and stuffed it into her mouth.
Unable to overpower him and unable to breathe, she bit his finger. In retaliation he bit her arm, then her cheek.
The bite to her face was done with such force skin was left hanging from her face.
The woman suffered severe injuries from the attack, including an infected arm, scars to her face and arm from the bites, a cut lip, bloody nose and bruising.
For more articles from this region, go to Hawkes Bay Today