Mum holds on to precious ring and photos after son's sudden death.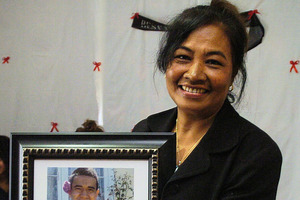 Tuatele Tanuvasa knew her teenage son Joshua loved her.
And if she ever has any doubts, all she needs to do is look at the diamond ring on her finger.
Four days ago, Tuatele's "compassionate, kind and loving" son collapsed and died while working out at Les Mills Gym in Hamilton.
Yesterday, Tanuvasa asked the Herald on Sunday into her home: she wanted to talk about her son and be photographed with his open casket.
Police are investigating the 17-year-old's unexplained death, which occurred soon after he bought a metabolism booster and protein powder.
GQ Nutrition owner Grant Pieterse, who sold Joshua the supplement, told the Waikato Times he did nothing wrong.
Joshua's family don't want to talk about the cause of his death until the coroner's report is completed, but told the Herald on Sunday how much he would be missed by the many people who loved him.
Not long before he died he spent two hours waiting outside a jewellery store so he could buy her a diamond ring on sale.
"He got it for me for Christmas and I found out from the boys, so I told them to look for it for me. He just loved his mum and he wanted the best for his mum."
Joshua, who left St John's College the day before his death with plans to move to Australia and work as a personal trainer, wanted to eventually become a police officer and to build her a "big house" in her native Samoa, she said.
Brother Jamieson, 21, said his brother was a top singer and won people over with his enthusiasm and smile.
"He could've won X Factor easily, he just lit up the room."
Joshua was also someone who loved getting his photo taken. He had plastered the walls of the family home in Kenney Cres with photos of himself, and family added more before his body came home on Friday.
Joshua will be farewelled at Central Baptist Church on Wednesday.
A police spokesman said it would be several weeks before the results of toxicology tests were known. The death had been referred to the coroner.