Lucky escape for child after deadly street play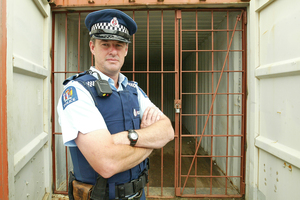 A young boy is nursing bruises and grazes after he was clipped by a car while playing a deadly game of chicken as he waited for a school bus.
The 7-year-old was one of several children - seen by a horrified mum - dashing in front of high-speed traffic on Waimate North Rd, a rural highway north of Kerikeri, this week.
Kerikeri mother Jo Chaney said vehicles travelling along the road which links Kerikeri to Kaikohe were forced to slow down and take evasive action to avoid hitting the children.
She was one of two people who reported the incident to police.
Bay of Island Youth Education Officer Constable Rob Drummond said the child was lucky to escape serious injury after he misjudged a run "playing silly buggers out on the road", and stumbled into the path of an oncoming car.
The car nudged him as it drove past, leaving the boy with scrapes and bruises and "a big fright", he said.
Drummond was due to speak to the caregivers and the boys involved, who were members of the same family.
"I'll be giving them a rev-up about the dangers of what they were doing and taking them back to the bus stop to make sure they are aware of how to behave safely."
Up to 15 children were waiting at the rural school bus stop when the incident happened early Monday morning.
Drummond said the older brother of the child who was hit was extremely upset. "He was feeling bad that he wasn't protecting his little brother."
Drummond, who is also chairman of the Kerikeri Primary School Board of Trustees, said the incident was a wake-up call for parents to remind children how to behave at rural bus stops.