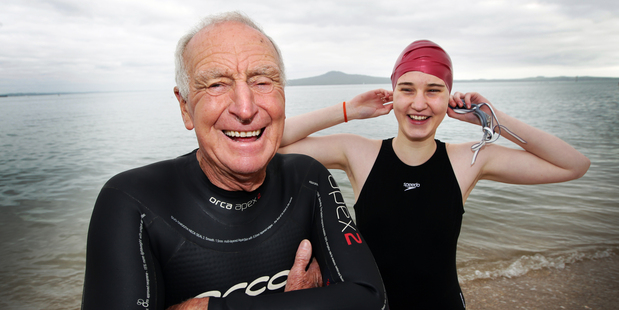 Peter Morley used to think he was a good swimmer - until his first Auckland harbour swim 22 years ago.
The then 52-year-old keen yachtie was shocked during the 4.5km swim from Rangitoto Island to St Heliers that he wasn't as flash in the water as he was on it. "I'd always been told by a lot of my mates that I was a really good swimmer, but I soon found out that I wasn't when I got in there with the proper swimmers."
He resolved to do better the following year, training hard and getting coaching. He's had plenty of time to practice since. This year, the 78-year-old Kohimarama pensioner will attempt his 20th crossing of the harbour.
He looks forward to catching up with the many friends who will be among the 1500 people taking part, and getting in some good thinking time. "You go into a dreaming-about-everything state and forget what you're doing."
There were times when he felt like giving up. "You've just got to keep going."
That's young Onehunga woman Sarah Burmester's motto, too. The 18-year-old Auckland University language therapy student is training for her harbour swim and is a bundle of nervous excitement. "I've never done anything like this before, but it's really cool to be able to swim in the ocean."
The harbour swim series, run by Auckland Central Masters Swimming Club, began 100 years ago. It begins with a 1.4km swim along Herne Bay today and culminates in the Rangitoto swim on March 3.