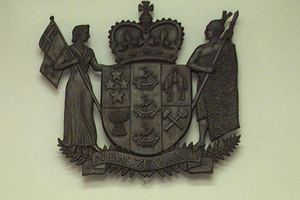 A Rotorua man has admitted benefit fraud which lasted more than 15 years.
Norman Deane Manuriki Cole, 59, appeared in the Rotorua District Court yesterday facing 25 charges of defrauding Work and Income by using various documents to obtain social welfare benefits between October 1995 and December 2010 at Huntly, Ngaruawahia, Taupo and Rotorua.
Cole's lawyer, Wiremu Te Are, entered pleas of guilty to all charges on his behalf.
The charges relate to Cole receiving benefits he wasn't entitled to. While he was living with his 46-year-old partner, homemaker Jacquilynne Hiria Mahara, also known as Turner, Cole had applied to include two children in his benefit. As a result, benefits were paid to Cole.
He was due to appear in the Rotorua District Court last month but as he was in hospital his case was adjourned until yesterday.
Cole was convicted of the charges and remanded on bail until December 12 for sentencing.
Mahara appeared in the Rotorua District Court last month and admitted more than $62,000 worth of benefit fraud over 16 years.
She had pleaded guilty to 25 charges of fraudulently using a document to gain a pecuniary advantage, two charges of aiding Cole to commit a similar offence and one charge of obtaining a benefit by deception.
According to the summary of facts, Mahara applied for and was granted a domestic purposes benefit in October, 1988.
When she signed the application she agreed to tell the Ministry of Social Development of any changes in her circumstances, including if she got a job or if she became involved in a marriage-type relationship. Over the following years, she was reminded of her obligations and signed documents confirming she understood them.
As a result of information received, it was found Mahara had started living in a relationship with Cole in August, 1990.
Between October 1995 and September 2011, Mahara filled out 16 documents in which she stated she was not living with a person in a relationship in the nature of a marriage and/or was single. In none of those documents did she say Cole was living in the same house as her.
Between March 1997 and June 2011, Mahara filled out seven forms in which she provided a false address or incomplete information as to who she lived with. In none of those forms did she state that Cole was living in the same house.
On November 7, 2003, she said in an application she was going to get back together with the father of her newborn child but didn't as he was with someone else. This was a lie as Mahara was living with Cole, who was the father, the summary said.
On two occasions - once in 2006 and once in 2009 - she provided Cole with letters to support him getting a domestic purposes benefit.
Mahara was interviewed by ministry officials last November and said she knew she should have told the ministry about her relationship with Cole and did not know why she had not. She said she was responsible and did not want her partner taking the blame.
For more articles from this region, go to Rotorua Daily Post