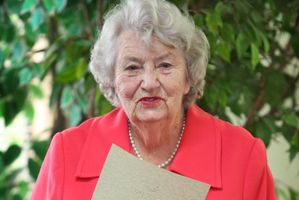 "Tireless" health and children's advocate Lady June Blundell, one of the longest-serving members of the Order of New Zealand, has died aged 91.
Lady June, the widow of New Zealand's first resident Governor-General Sir Denis Blundell, received New Zealand's highest honour in February 1988, a year after the order was established.
She died yesterday at Auckland Hospital following a short illness.
Lady June was a founding patron of the Child Cancer Foundation and helped establish teenage cancer charity CanTeen.
She was active with St John throughout her life, and was involved with the Homai College for the Blind, Save the Children New Zealand and the Asthma Foundation.
Lady June's death has opened up a place within the Order of New Zealand, which is limited to 20 living members at a time.
Governor-General Lieutenant General Sir Jerry Mateparae said she had dedicated her life to the service of others.
"A softly spoken person who never sought the limelight, she worked quietly and tirelessly on behalf of many community organisations and charities.
"On behalf of my wife Janine and my family, I extend my deepest sympathies to Lady June's family at this sad time."
Prime Minister John Key said Lady June made a significant contribution to New Zealand in her own right.
"She was over 90 when she died, and had worked throughout her life to help others. Her tireless service to the country through a wide range of community and welfare work was recognised when she was made a member of the Order of New Zealand in 1988," he said.
"I express my deepest sympathies to the family and friends of Lady June at her passing."
Child Cancer Foundation chief executive Sarah Thomson said Lady June's heart had always been with children with cancer.
Her earliest fundraising effort for the foundation was to raise money for a comfortable chair where parents could sit and sleep with their child while the child underwent chemotherapy treatment.
She spoke at many functions, loved attending events, and spent numerous hours on the telephone talking with parents.
Ms Thomson said Lady June's family was very important to her, and her children and grandchildren had shared in her support for the foundation.
The foundation had been through many challenges but Lady June was always proud to note it had always stayed true to its mission.
Ms Thomson said she was fortunate to spend time with Lady June in recent times, including her 90th birthday in June last year.
"She told me then how much she enjoyed spending time with several of the children and parents the foundation supports, as well as talking with Child Cancer Foundation board and staff members."
- APNZ