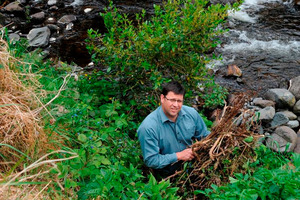 The green waste dumped and leaching into Dunedin's urban streams is "offensive" and endangering the brown trout, Fish & Game says.
Fish & Game Otago operations manager Ian Hadland said some Dunedin residents were treating urban streams in Dunedin as dumping grounds for green waste, such as grass clippings.
When the streams flooded, the waste was picked up and dumped in Otago Harbour, he said.
"It's essentially littering."
Leaching from the compost could strip oxygen from the water and endanger the health of whitebait and trout.
Numbers of the "treasured" brown trout were declining, most probably due to pollution.
The rural community had tidied up their act of the leaching into waterways so it was time for their urban cousins to stop their "offensive" behaviour.
Potatoes were growing near the Water of Leith, near Malvern St, possibly where food scraps had been dumped.
"It's a shame to see people treat it this way. The waterways should be treated with the respect they deserve."
The ongoing illegal dumping had to stop and should not be tolerated.
Fish and Game had contacted local and regional councils to deal with the illegal dumping, Mr Hadland said.
However, if the councils failed to act, Fish & Game would look at their legislation to prosecute.
A Dunedin City Council spokesman said no complaints had been received about the dumping of green waste and the issue was the responsibility of the Otago Regional Council.
The Otago Regional Council could not be contacted for comment yesterday.