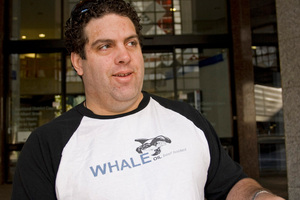 Cameron Slater. Photo / David Rowland
The author of the popular right wing blog Whale Oil has been appointed as the editor of the Truth newspaper.
Cameron Slater, who posts regularly at whaleoil.co.nz, promised to "fundamentally change" the 125-year-old paper after being announced as editor this afternoon.
He promised to shift it away from a "tired old business model that no longer works".
"We took the pulse of the nation, and it had nearly bloody died.
"No bastard wants to read old news - they can get that online. We'll be more of a views-paper that promises to deliver real news, real opinion."
Changes to the Truth will be rolled out over several months and will include the development of a news website to support the paper, Slater said.
He said the paper would focus on uncovering political dishonesty and scandal.
"We're going to keep the buggers honest. There's no better disinfectant than sunlight."
The first issue of Truth to be edited by Mr Slater is due to come out on November 8. He said he would continue blogging at Whale Oil.
Mr Slater had an extra-marital affair outed in a court judgment issued in June.
He has previously been convicted in the High Court of breaching name suppression orders on criminals.
- nzherald.co.nz