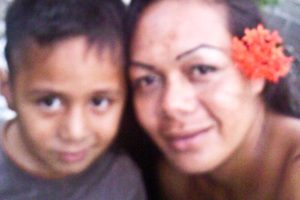 The uncle of a boy shot dead in Samoa has spoken of the family's grief as arrangements are made for the bubbly 5-year-old's funeral.
James May was shot by his 8-year-old cousin last Wednesday night in what is believed to be a tragic hunting accident. His father Peter May, who lived in Tauranga before moving to Tokoroa, travelled to Samoa with the boy's grandmother on Sunday after learning of his son's death.
James' uncle, who lives in Te Puke, told the Bay of Plenty Times the family was coping as best it could.
"It's pretty hard to comprehend what's happened. It's a tragedy," said the man, who did not want to be named. ''[James' dad] Pete is coping pretty well in the circumstances, he's doing okay."
The 5-year-old moved from New Zealand to Samoa about a year ago.
It is understood James has close family who live in Te Puke, including a half-brother and three half-sisters. Other relatives live in the wider Tauranga area.
James' uncle said his nephew would be sadly missed.
The 5-year-old's mother, Mui May, said she was struggling to believe her son was dead.
She broke down in tears as she told Samoan television: "I was shocked when my older sister rang me and told me James was gone."
Police said yesterday the 8-year-old cousin would not be charged.
An uncle who was hunting with the children had been taken into custody. He is likely to face charges of possession of an unregistered firearm.
James' funeral is set for some time this week.
It is understood James was not a Kiwi citizen and neither is his mother, Mui May. However, the New Zealand High Commission in Apia is assisting the family as Mr May is a Kiwi.
Police said the 8-year-old boy was no longer in police custody, but had not been sent back to his parents and was instead with members of his extended family.
Mr Pula said the incident had once again highlighted the issue of unlicensed guns in the island nation.
For more articles from this region, go to Bay of Plenty Times