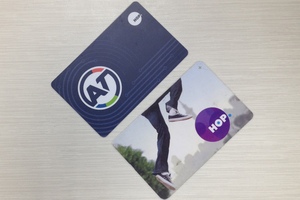 Auckland Transport insists it is processing online payments for its new Hop train cards within 24 hours, despite complaints from passengers of delays of three days or more.
The Herald received emails yesterday from two passengers saying large payments made on Saturday were not showing on the council transport agency's Hop card website.
Len Thomson said he loaded $150 on to his new card on Saturday, but although he had been able to tag on and off for a train trip on Monday, his online account was still showing a negative balance at 7am yesterday.
He reported later in the morning that the balance had turned up in his account, but he remained dissatisfied with the system's sluggish response.
Fellow passenger Terry Sawyer said he was still waiting for $100 to appear in his account, 84 hours after trying to top up his Hop card.
That was even longer than a warning on the Hop website that it may take up to 72 hours for funds to be transferred to rail cards.
"Please ensure you have sufficient funds to cover your intended travel during this time," the site says.
The warning appears to contradict a pamphlet distributed by Auckland Transport to new cardholders saying that after they have completed transactions "it may take 24 hours for the funds to load on to your card".
But Auckland Transport spokeswoman Sharon Hunter said last night that the 72-hour warning was simply to give passengers notice of the worst-case scenario while the organisation was trying to process of top-ups for holders of more than 16,000 cards issued in little more than a week.
She said the card processing centre had assured her the processing time had since been pared back to within 24 hours.