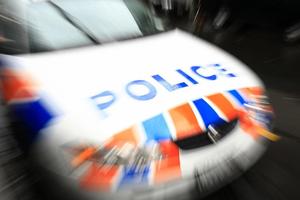 A 59-year-old Hawkes Bay man was lucky to escape serious injuries or death when the car he was driving hit trees and flipped in Hastings at the weekend.
Photos of the car wreck on Ormond Rd, known as Oak Avenue, show extensive damage - especially to the driver's seat - and despite suffering head injuries, the man was in a stable condition at Hawke's Bay Hospital last night.
Hastings police Senior Sergeant Dan Foley said alcohol was considered to be a factor in the 6.30am crash on Saturday.
"We believe alcohol and fatigue were probably involved in the cause," he said.
"He may have drifted off to sleep and driven into one of the oak trees.
"He has been driving down and clipped a couple of trees and rolled over. He flipped his car and he was in a reasonably precarious condition."
The man was attended to by fire crews and St John ambulance staff at the scene - about 900m from Omahu Rd.
No passengers or other vehicles were involved in the crash. Mr Foley said charges were likely.
Two other Hawkes Bay men and a 16-year-old youth were also lucky to escape serious injuries after motorbike accidents around the region.
About 2pm on Saturday, Taupo's Greenlea rescue helicopter flew a 16-year-old to Hawke's Bay Hospital after he fell from his motorbike during a trail ride.
Helicopter pilot and base manager Nat Every said the Bay resident received pelvic and leg injuries in the fall at the Tahorakuri Forest, in Taupo.
He was in a stable condition last night.
About 5pm on Saturday, the Lowe Corporation Rescue Helicopter transported a 56-year-old man from a farm near Putorino, northern Hawke's Bay, after a quad bike accident.
The man, a passenger on the bike, received head and shoulder injuries. He was later discharged.
About 10.30am yesterday morning a man in his 30s was also flown by the Lowe Corporation rescue helicopter to Hawke's Bay Hospital with injuries sustained while racing in a motocross event near Napier.
He suffered a shoulder injury after flying over the handlebars of his bike, and was in a stable condition at the hospital last night.
Yesterday afternoon an 18-year-old man suffered a head injury when the tractor he was using to compact a silage stack rolled on a farm near Dannevirke. He was airlifted by the Lowe Corporation Rescue Helicopter to Palmerston North Hospital.
For more articles from this region, go to Hawkes Bay Today