Hamilton officials hoping another low-cost operator can take over Virgin's service.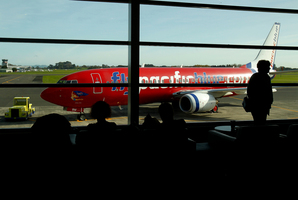 Hamilton International Airport is in talks with another low-cost carrier to replace Virgin Australia which ended its international flights from there at the weekend.
Plunging passenger numbers brought the end of the transtasman service to Brisbane from Hamilton International Airport, three years after Air New Zealand pulled the plug on its operations there for similar reasons.
Hamilton International Airport chief executive Chris Doak did not return Herald calls yesterday but the airport board chairman, John Birch was philosophical.
"The loadings weren't economically viable for them so they did what any of us would have done and pulled the service," he said.
Formerly known as Pacific Blue, Virgin Australia stepped into the gap left by Air New Zealand after it axed international flights from Hamilton in 2009.
Air New Zealand ended its service blaming the economic recession, Auckland International Airport offering more flight options to Australia and low passenger numbers using the service.
But Virgin Australia's arrival did not improve things. Hamilton International Airport figures show passengers using the service plunged 25 per cent to about 9000 for the six months to the end of last year against the same period in 2010.
The figures were worse when compared with the same period in 2007 - when 22,000 people flew from Hamilton - although Sydney and the Gold Coast were among the destinations at that time.
In March this year, Virgin Australia decreased the number of flights from four to three a week because of weaker demand.
Despite the negative returns, Mr Birch believed there was still a future for international services from Hamilton, probably for a "very low-cost model".
"That's what I have been saying all along and that is what we are doing right now is talking to some low-cost operators, making sure they are aware we are there and we want to deal with them," said Mr Birch.
Hamilton mayor Julie Hardaker said the airport remained "strategically very important" for the Waikato.
"It has had an up-and-down past in relation to international flights, so I guess Virgin leaving is not inconsistent with the way international flights have operated out of that airport," she said.
"It is certainly important that the airport remain an international airport and so the shareholders and the airport company are exploring all the options to enable that to continue."
Hamilton City Council chief executive Barry Harris is working with the Hamilton International Airport to identify future strategies and opportunities.