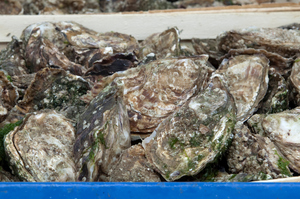 A warning has been issued to the public against collecting and consuming shellfish from the North Island's west coast.
The Waikato District Health Board today issued a public health warning on shellfish harvested from Mohakatino in northern Taranaki, north to Manukau Harbour. The warning includes Kawhia, Aotea and Raglan harbours.
Shellfish samples taken from Kawhia and Raglan have shown levels of Paralytic Shellfish Poisoning (PSP) at 0.83 and 1.10 milligrams of toxin per kilogram of flesh. This is above the safe limit of 0.8 milligrams per kilogram of flesh.
Anyone eating these toxic shellfish is potentially at risk of illness, so kina, mussels, toheroa, pipis, tuatua, oysters, cockles and scallops from the area should be avoided.
Symptoms of PSP usually occur within 12 hours of consuming shellfish and include numbness, dizziness, difficulty breathing and swallowing and, in severe cases, paralysis and respiratory failure.
Cooking shellfish does not remove the toxin.
Paua, crab and crayfish can be eaten safely only if the gut has been completely removed prior to cooking as toxins accumulate in the gut.
Consumers of shellfish from the affected area who become ill should contact their GP immediately and keep any remaining shellfish.
Warning signs in the closure areas are being erected and stakeholders have been advised by letter.
Levels of PSP at Manukau Harbour fall within the safe limit and hence the warning does not include Manukau Harbour.
Public health organisations in the area are continuing to monitor the situation.