Twentieth anniversary of Ponsonby Christmas spectacle will get special boost.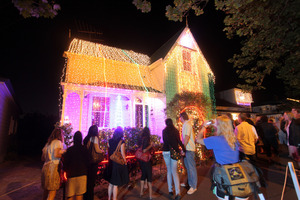 Plans are under way to make sure the opening night of Franklin Rd's annual Christmas light display will be bigger, better and brighter this year.
Each December residents of the Ponsonby street deck their homes with Christmas lights and decorations and an opening night "event" is held where someone well-known flicks the switch to light up the street.
Thousands of people flock to the display, always complete with live music and a sausage sizzle or two.
This year residents decided to mark the 20th anniversary of their festive handiwork with a bigger opening night party on December 1. Some were dismayed to find out they would require a permit from the council.
They are planning to open the event at the bottom of the street, opposite Victoria Park. As it is a public space, a permit is required.
But Auckland Council will not be charging residents for that and has promised to help make the event happen.
A spokesman said the council was "fully supportive" of the Franklin Rd lights display.
"The council welcomes this year's plan to boost the event, which it considers one of Auckland's special annual Christmas treats," he said.
"Council staff will work with organisers to facilitate the process needed for the extension of the event such as to allow any required use of public space and live music for the opening night.
"There is no plan to charge for that permit. The obtaining of an event permit for the opening night is a standard process that will be worked through with council staff to ensure the public space can be used."
The residents plan to turn the lights on in conjunction with the Telecom Christmas Tree in Victoria Park and an Advent calendar on the waterfront at Auckland's Viaduct.
Franklin Rd resident Hamish Keith said the three "vibrant" Christmas events being so close to each other meant families could have a great night out visiting them all.
"It's one of the things that makes it more than an arterial route - it's more of a community."