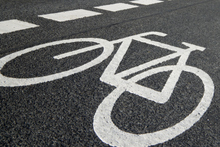 A 55-year-old Whangarei cyclist was taken to hospital by ambulance after colliding with a car during morning traffic yesterday.
Other motorists and pedestrians on their way to work rushed to comfort the man as he lay on the road at the intersection of Albert and Walton streets just before 8am. A waste-management truck driver stopped and directed traffic around the injured cyclist.
Whangarei police Senior Constable Bryan Cross said the man was riding on Walton St towards the five-finger roundabout and was behind a car travelling in the same direction. A car going in the opposite direction was making a right-hand turn into Albert St and the two collided.
The cyclist was taken to Whangarei Hospital with minor neck injuries and was released late yesterday.
By Kristin Edge of The Northern Advocate