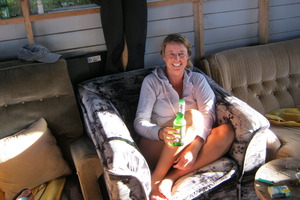 The man accused of killing New Plymouth jogger Anne McCullough has had the charge against him upgraded to murder.
Matthew Kinghorn was initially charged with manslaughter. That charge has now been withdrawn.
The 27-year-old local man made a brief appearance this morning before Judge Josephine Bouchier in the New Plymouth District Court.
He was tidily dressed in blue jeans and a grey T-shirt, and stood with his head down for the entire appearance.
Kinghorn's right hand was heavily bandaged.
Those in the full court room included Ms McCullough's family members and colleagues from her workplace, the city branch of National Bank.
Kinghorn was remanded in custody to reappear next month.
Anne Elizabeth McCullough, 45, disappeared while jogging near Frankley Rd, New Plymouth between 1.30 and 2pm on Saturday.
Her body was found about 2.30pm approximately 10km away in the back seat of an abandoned purple Holden Commodore near a place known as Meeting of the Waters.
Detective Senior Sergeant Grant Coward said police were appealing for any sightings of "a distinctive purple 1987 Holden Commodore sedan with mag wheels'' driving around New Plymouth on Saturday afternoon.
"More specifically we are looking for sightings in the location of the top end of Frankley Rd, Carrington Rd, Baker Rd, Mangorei, Junction Rd and the Meeting of the Waters,'' he said.
Anyone with information was asked to call police on 06 759 9456 or 06 759 5500.
Ms McCullough's funeral will be held in New Plymouth tomorrow.
- APNZ