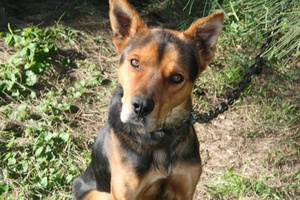 A Tauranga man who starved his dog and unchained it just a couple of times during a two-year-period has appeared in court trying to have his community work sentence cancelled.
On September 18 Phillip Warral Kahotea, 26, was fined $750 and sentenced to 75 hours community work after he admitted failing to adequately feed and care for the dog. The port worker was also disqualified from owning another dog for three years and ordered to pay vet expenses of $158.26.
Appearing in Tauranga District Court yesterday, Kahotea's lawyer argued he could not fulfil the community work sentence as it interfered with his full-time work.
Judge Thomas Everitt spoke sternly to Kahotea and told him court orders came first however he adjourned the matter to be heard by the judge who sentenced him, Judge Peter Rollo, on November 12.
The charges against Kahotea came after an SPCA animal welfare inspector visited his Te Puke property three times and found the malnourished huntaway, Duke, tethered by a chain around its neck to running wire.
When the SPCA finally seized the dog in May this year he was malnourished, had no body fat and his muscles were wasting away.
At sentencing, Judge Rollo said Kahotea's actions or inaction towards the dog were unfeeling, unkind and unacceptable.
"This offending seems to be the result of your indifference to your obligations to care for your dog, and quite frankly Mr Kahotea you should be ashamed of those failings."
For more articles from this region, go to Bay of Plenty Times