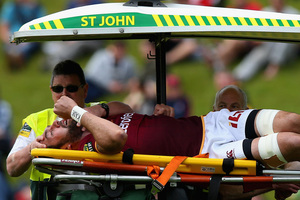 Southland rugby player Hoani MacDonald came out of an induced coma last night, the day after suffering cardiac arrest and "flatlining'' during a game.
The 34-year-old collapsed during his team's ITM Cup semifinal against Counties Manukau at Pukekohe on Saturday, but he is beginning to show positive signs.
New Zealand Rugby Union general manager of professional rugby Neil Sorensen said last night MaDonald was acknowledging questions and recognising people around him.
"While this is positive news, he remains in intensive care at Middlemore Hospital and his condition is described as stable.
"Hoani's family remain at his bedside and have expressed thanks for the massive outpouring of love and support from the New Zealand public.''
MacDonald was understood to have "flatlined'' twice after he fell to his knees and had a seizure minutes before half time during Saturday's game.
Pukekohe Volunteer Fire Brigade's senior station officer Graeme Wilson said MacDonald was talking to the team doctor when he had a "fit'' and fell unconscious.
His condition deteriorated rapidly and he went into cardiac arrest just minutes after being taken from the field on a stretcher.
"It was pretty scary and definitely life-threatening for a while,'' Mr Wilson said.
"I could tell by the anxiety of the ambulance officers.''
Ambulance officers used a defibrillator on MacDonald after CPR and a shot of adrenaline failed to bring back his pulse.
Yesterday, Southland head coach David Henderson said: "As coaches, we knew he was in some serious trouble before half time.''
They had tried to shield the team to stay focused on the game so the medical team could do their work and play could continue.
- APNZ