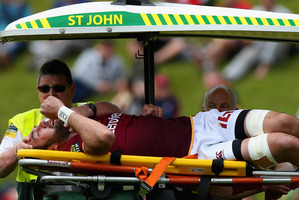 Rugby rep Hoani MacDonald has been joined by his family in Middlemore Hospital, Otahuhu, where he was put in an induced coma after collapsing during a game.
Fiancee Michelle Notman and their two young sons flew up from Invercargill to be with the 34-year-old, who took ill during Southland's ITM Cup semifinal against Counties Manukau at Pukekohe on Saturday.
Late last night, a hospital spokeswoman said MacDonald was in a stable condition, but she was reluctant to confirm reports on Twitter that he had been brought out of the coma.
Earlier, the New Zealand Rugby Union's general manager of professional rugby, Neil Sorensen, said there had been a lot of support for MacDonald's family and club.
"We were pleased to hear Hoani had come through the night well.
"We are still very worried for Hoani and we are continuing to work with Rugby Southland to support Hoani and his family and to support the team, who have now returned home."
Rugby Southland general manager Brian Hopley said the "small, very close-knit organisation" was being updated on MacDonald's condition.
MacDonald was understood to have "flatlined" twice after he fell to his knees and suffered a heart seizure minutes before halftime.
Ambulance officers used a defibrillator on MacDonald after CPR and a shot of adrenaline failed to bring back his pulse.
Yesterday, Southland head coach David Henderson said MacDonald had been fit and healthy. "There was nothing wrong with him. He's a great team man."
- APNZ