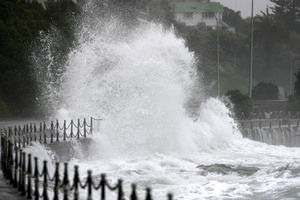 Motorists in Hawkes Bay are being urged to drive with caution as the region is battered by winds of up to 170km/h.
The MetService said very high winds in Hawkes Bay and Wairarapa would continue this evening before easing overnight.
Gusts of up to 90km/h have been recorded at Napier Airport, while the strongest gust of about 170km/h was recorded at Cape Turnagain between Wairarapa and Hawkes Bay.
Police have received reports of severe winds on State Highway 2 near Takapau and on SH5 between Napier and Taupo near Tarawera.
Motorists have been urged to drive with caution. Motorcyclists, campervans and high-sided vehicles in particular have been warned to avoid travel on open roads until conditions improve.
The strong gusts are part of an expected band of wind and rain hitting the North island this afternoon.
Earlier today, MetService issued a severe weather warning of blustery westerlies for much of the North Island and central New Zealand ,with severe gales for Central Hawkes Bay and the Tararua District.
More blustery weather is forecasted for tomorrow with conditions expected to ease in Auckland by tomorrow night.
The Labour Day long weekend is expected to start with pleasant weather on Saturday - unless you live on the West Coast, where residents are being told to watch for heavy rain warnings, or Southland and Otago where a cold blast may bring sleet.
The rest of the country would be mostly dry and slightly warmer, according to WeatherWatch analyst Philip Duncan.
Some rain might arrive on the North Island's west coast on Saturday night.
The cold snap spreads across the South Island on Sunday while the forecast for the North Island can expect more rain.
Early forecasts for Labour Day Monday predict strong winds and rain.
- APNZ