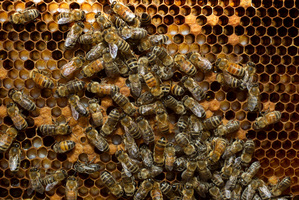 Despite recovering only a fraction of money lost through theft of their beehives, Northland beekeepers continue their hunt for the missing hives.
Police said at least three commercial beekeepers in Kerikeri, Wellsford and Kamo lost 85 beehives worth $27,000 last year.
But the Whangarei Bee Club, which helped the commercial beekeepers recover some of the stolen property, reckons more than 100 beehives were stolen.
Police arrested and charged Justin Howes, 22, with three counts of receiving and he was sentenced to 400 hours' community work by the Whangarei District Court on Monday.
The court also ordered him to pay reparation of $7500 at $40 a week.
"Bearing in mind the time spent locating the hives and the track record of this guy [Howes], it was quite an inadequate sentence," club president Kevin Wallace said.
The club started an investigation in November 2011 after concerns were raised at the number of hives being stolen in Northland.
Mr Wallace said an enormous amount of effort and time were spent by club members and police in locating the hives.
He said after some hives were found on Clements Rd in Matapouri, club members were led to a building known as the Old Hospital at Te Kopuru, south of Dargaville.
Most of the stolen beehives in the building had their identification numbers, he said.
Affected beekeepers noticed their fences had been cut and beehives removed. Several hives had been altered and had phone number of the owners painted over.
"Police didn't realise the magnitude of the problem when we contacted them. They only prosecuted on the number [of hives recovered] that were absolutely conclusive," Mr Wallace said.
"We never recovered anywhere near what was stolen but the search continues."
Mr Wallace said club members understood the low reparation ordered by the court because Howes could not afford to pay the $27,000 sought.
He was not aware of claims by Howes' lawyer John Day that his client had initiated proceedings against the club in the Small Claims' Tribunal.
Howes claims the club took 89 of his beehives and hive gear.
For more articles from this region, go to Northern Advocate