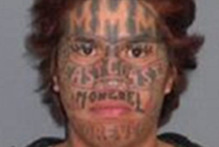 A Mongrel Mob gang member who escaped from custody has been arrested this morning in New Plymouth.
Mana Tangitutu, aged 27, escaped from a cell at Whakatane courthouse on October 3 after being handed a four-month prison sentence for assault.
This morning Whakatane police and armed offenders squad members co-ordinated a search warrant at a house in New Plymouth where Tangitutu was arrested without incident.
He was to appear in New Plymouth District Court today charged with escaping custody.