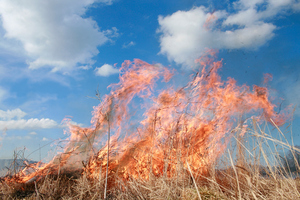 Department of Conservation fire officer Tony Teeling said fire authorities in Mid Canterbury were carefully watching early predictions of a return to El Nino conditions this summer, which could result in extra-dry conditions for coastal and plains areas in Canterbury.
And those were the days where a small flame could turn into raging inferno in a matter of minutes.
"Whether this occurs or not, we need to be prepared," he said.
"If it does eventuate, and that's what we're watching to see if it does, it does bring with it a tendency for strong nor'west conditions."
A return to El Nino was likely to bring the typical hot, dry, and windy, nor'west conditions that Mid Canterbury was all too familiar with during summer - but conditions they didn't see a lot of last year.
For the first time in many years, fire restrictions were not required on the Mid Canterbury Plains last year and fires in rural areas were few and far between.
But if this year's current predictions, and the horribly dry summer the Northern Hemisphere has just experienced, were anything to go by, this summer could be a different story altogether.
An El Nino summer would see the back of the foothills relatively wet, but the Canterbury Plains and the coast, stay dry.
Mr Teeling said it was too early to say whether the predictions would be right.
"What we do know in Canterbury is if we do get one month with very little rain, we are in trouble," Mr Teeling said.
"Canterbury knows what it can be in for and we just make sure we are ready for anything."
While Mid Canterbury's rural landscape may be increasingly changing as crops give way to dairy land - virtually lush, green fire breaks in the landscape - some of the worst summer fires Canterbury had seen in recent years had actually come in river beds, Mr Teeling said. The Mt Somers fire of 2004 which took days to bring under control, was a prime example.
He said officials tried to get messages out to recreational users of those areas to be careful, but a fire could start from something as simple as a spark from a motorbike or a gas cooker falling over.