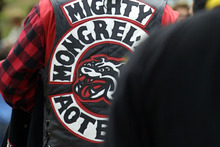 A patched member of the Mongrel Mob Aotearoa Dunedin chapter who went with an associate to the home of a 41-year-old woman he did not know and intimidated her, received six weeks' jail "as a clear message this stuff can't happen".
Tyrone Kamal Henare (20), unemployed, was convicted and given the sentence when he appeared in the Dunedin District Court yesterday.
He had admitted approaching the woman's house knowing his conduct was likely to frighten her, on July 20.
Prosecutor Sergeant Paul Knox said Henare and a female associate drove to the victim's home and the associate asked him to help her recover some property.
Wearing his Mongrel Mob patch over a red long-sleeved T-shirt, Henare placed a bandanna over the lower part of his face and nose and a woollen hat on his head, showing only his eyes.
He then walked to the front door of the house and knocked.
The victim opened the door.
With Henare standing in the doorway, less than 1m from the woman and with his arms folded, his associate spoke to the woman aggressively, swearing at her.
Fearing for her safety, the woman tried to close the door. But Henare placed his foot in the door jamb and pushed the door open, stepping inside.
The victim ran to the lounge and rang police.
Henare and his associate left.
Spoken to, Henare stated that on reflection he understood how his action could be seen as intimidating.
Counsel Bernadette Farnan said Henare had been mistaken about the address. He could understand how the woman might have felt.
Judge Michael Crosbie said Henare was lucky not to have been charged with attempted burglary. There were sinister overtones.
"In the context of intimidation, this is as bad as it gets".