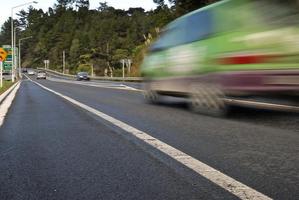 File photo / NZ Herald
State Highway One south of Taupo will be closed for more than seven hours on Thursday as workers remove a truck which rolled.
New Zealand Transport Agency highway network operations manager Karen Boyt said the truck rolled at Bulli Point earlier this week.
She said the highway would be closed to motorists from 9am to 4pm on Thursday to allow workers to safely remove the truck.
"The operation to remove the truck is difficult due to the narrow road at the accident scene and the position of the truck down the steep bank above the lake. A large crane is required to lift the truck which will take up the full width of the road during the operation.
"In addition we need to ensure enough time is set aside during daylight hours to achieve the successful removal of the truck, without compromising the safety of the removal crew."
Ms Boyt said she appreciated drivers, residents and businesses would feel the impact of the closure but said the aim was to minimise the effect as much as possible.
"This is why we have timed the closure to start at 9am, to minimise inconvenience to people travelling to work or school that morning and to allow freight and other road services time to get through early before the closure begins. We are also talking with these groups to assist them with their plans for afternoon travel.
"There are no local alternative routes around this section of highway, so all traffic will either need to use Poihipi Rd north of Taupo which connects SH1 and SH32, or if travelling from further afield, use SH32 on the western side of Lake Taupo when travelling north and south."
Ms Boyt said people would need to plan their travel on Thursday to go through the area on either side of the road closure times or via the alternative routes.
"We apologise for the inconvenience caused to motorists and we thank them for their patience and understanding around this operation."
People can check the NZTA website www.highwayinfo.govt.nz for up to date information on road conditions and to check on the progress of Thursday's road closure.
- APNZ