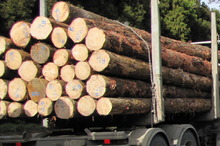 A fully laden logging truck and trailer crashed off the road into a Far North paddock of dairy cows today.
There were no bovine fatalities and the driver was also lucky to survive, police say.
Emergency services were called to the crash on Mangakahia Rd, near Titoki, 29km west of Whangarei, about 12.45pm.
Highway patrol Constable Peter Harding said the southbound logging truck was heading to Whangarei when the truck crashed over a three-metre bank on a moderate right hand bend.
"The logs spilled across the paddock and the truck took out two power poles as well," Mr Harding said.
The driver was trapped in the cab and had to be freed by Whangarei firefighters. He was taken by St John Ambulance to Whangarei Hospital with moderate injures.
Mr Harding said power lines were left hanging and North Power was called in to cut the electricity supply and replace two poles.
A crane was used to retrieve the track and trailer from the paddock. The logs were also being cleared by the trucking company.
Senior road policing officer Sergeant Chris Goodall said the driver was lucky to survive the crash as the cab was extensively damaged. A section of fencing was also taken out by the truck.
"Things could have easily been different in this case. We have had a rash of fatals and we are looking like there will be five or six for the month," Mr Goodall said.
There were no other vehicles involved in the crash and police say driver error could be a factor. The driver is yet to be interviewed.
By Kristin Edge of The Northern Advocate