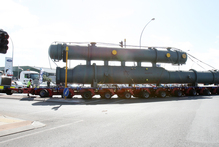 Traffic in Mount Maunganui was forced to a standstill by a large transporter truck trying to manoeuvre its way around a corner today.
The Multi-Trans truck, with a 24-wheel trailer, was carrying a large component for a power station.
The truck had left the Port of Tauranga and was heading along Totara St, before it turned right into Hewletts Rd and became jammed in the intersection.
Motorists faced slight delays as a result.
By Joseph Aldridge of the Bay of Plenty Times