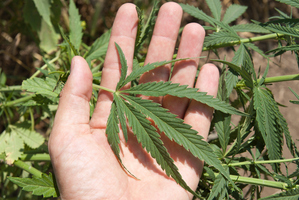 A cannabis grower caught with more than $600,000 worth of high-grade crop and over $40,000 in cash stuffed in a safe has been sent to jail.
Wayne Puhi Malcolm had three titles of land to his Whanganui River property forfeited but it was only an application by his son that saved the family home from being taken by the Crown.
It was a "crushing sentence" his counsel told Whanganui District Court yesterday. His client was sentenced by Judge David Cameron to two years and six months in prison on charges of cultivating cannabis, possession of cannabis for sale, possession of a pistol and possession of a firearm without a licence.
Judge Cameron said there was some merit to Malcolm's son's application. Malcolm's family had no involvement in the "large scale commercial" cannabis-growing operation, Judge Cameron said, when he granted leave for the application.
His son lived on the property with his family, and forfeiture would cause hardship to them.
However, Malcolm's sentence start was deferred by the court so he could move his stock off the land, made difficult at this time because the Whanganui River is high.
Malcolm was remanded on bail and must surrender to Whanganui police on November 16 at 1pm to start his prison sentence.
Malcolm's property is on the western side of the river opposite Ranana.
The four certificates of title were worth a total of $240,000.
Malcolm had used five different plots adjoining his property to cultivate the cannabis.
In March 2010 Whanganui police found 70 plants close to maturity, plot two was no longer in use, but there was evidence of previous cannabis growing.
Plot three contained 178 mature cannabis plants close to maturity and plot four contained recent signs of cannabis cultivation which had been harvested prior to the arrival of the police, but which had been seen from a spotter plane.
When police searched the property the next morning they found four bread bags that contained a total of one pound of cannabis. The police put a value of $3200 on that amount which is what a pound of cannabis sells for on the street.
On March 31 police found further amounts of head and leaf in Malcolm's bedroom and woolshed, estimated at a street value of $15,232.
An ESR expert said that Malcolm's crops were the "most well-tended" she had seen.
The total amount of cannabis seized was estimated at a street value of $614,400.
During the search of Malcolm's home $42,915.30 in cash was found in a safe in his bedroom, and when he was located in Wanganui later that day he was in possession of $3100.
Four firearms were also found at Malcolm's home, and all were forfeited.
For more articles from this region, go to Wanganui Chronicle