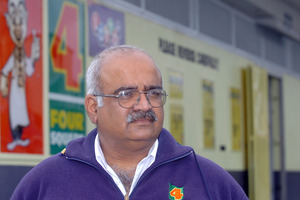 Ngongotaha Four Square owner Sailesh Patel. Photo / Andrew Warner
"It's not if, it's when", a Rotorua shopkeeper says about dairy robberies.
Ngongotaha Four Square owner Sailesh Patel's comments follow the armed robbery and kidnapping of a Tokoroa couple on Saturday night.
The two Tokoroa dairy owners were robbed and kidnapped at gunpoint just after 10pm.
Police say as the owner of Amber Dairy on Bridge St locked the premises and his wife was waiting in a vehicle, a man approached her car with a firearm and forced her to return to the shop.
After stealing takings from the shop the offender then forced the victims to drive him around Tokoroa in a silver Toyota saloon car.
He counted the cash before forcing them to make a withdrawal at an ATM machine on Bridge St and go back to the shop a second time to get more money, police said.
Police spokeswoman Kim Perks said the man then made the victims drive him to State Highway 1 where he got out of the vehicle by the Mobil service station.
He was last seen walking north on the highway.
The victims were threatened but not harmed throughout the ordeal which lasted about 40 minutes, she said.
The offender, who is a Maori or Pacific Islander, was wearing dark clothes and a blue and white bandana across his face. He is aged between 20 and 25 and between 180cm and 185cm tall.
Police will not say how much cash was stolen.
Meanwhile, Mr Patel said he was always concerned about being robbed and it wasn't a matter of if, it was a matter of when.
There was always a risk of being robbed but dairy owners had to be pro-active and make sure staff knew what to do in during a robbery.
Springfield Superette and Lotto owner Raj Kumar agreed.
Being pro-active by training staff, keeping vigilant, keeping the shop well lit and having cameras in place were ways to help prevent being robbed.
"I think it's always in the back of your mind, but at the end of the day what can you do?"
Anyone who has information about the Tokoroa robbery should contact Tokoroa Police on (07) 885 0100. Information can also be provided anonymously via Crimestoppers on 0800 555111.
for more articles from this region, go to THE DAILY POST