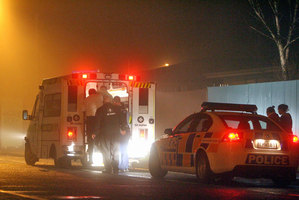 Relatives of a 14-year-old cyclist were first on the scene after a fatal collision between the teenager and a milk tanker in Northland.
The boy died at the scene following the accident in Moerewa just before 1am yesterday morning.
His family arrived only minutes after the fatal collision and were by his side when he died.
He was struck by the front right side of the north-bound tanker's trailer unit as he rode out of Wynyard St onto George St, the section of State Highway 1 through Moerewa.
Senior Constable Jim Hawthorn, of the Serious Crash Unit, inspected the undamaged tanker and trailer at the Fonterra factory site at Kauri yesterday on his way to examine the crash scene.
Mr Hawthorn said the corner where the boy collided with the tanker was well lit with street lighting. It was not known yet why the teenager, who lived nearby, was out riding at that time or how he came to smash into a highly visible passing tanker. It is the second cycling related fatality in Northland in a week.
A 66-year-old Auckland cyclist died after being struck by a four- wheel-drive at Ruakaka last Sunday.
The teenager's death is the fourth on Northland roads in a month, pushing the number of fatalities for the region to 11 already this year - four more than last year's record low of seven.
For more articles from this region, go to Northern Advocate