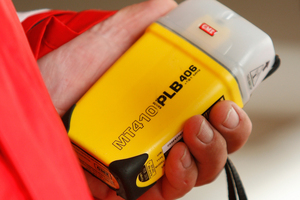 Photo / NZ Herald
The Rescue Coordination Centre is crediting an emergency locator beacon with saving a man's life after he got hypothermia on a hunting trip in Fiordland.
The man and his companion had been on a three-week hunting trip, but 30 hours of constant rain left him hypothermic and with chest pains, RCCNZ said today.
Search controller Conrad Reynecke said the pair had got into difficulty and activated their beacon near Dusky Track about 4pm yesterday.
"The GPS location information from their personal locator beacon (PLB) meant we were able to dispatch the Southern Lakes Helicopter to the scene quickly. He was hypothermic and suffering from chest pains, so it was important to get him to a place of safety."
Mr Reynecke said the incident demonstrated the importance of carrying a registered PLB with GPS capability.
"Carrying a registered PLB essentially removes search from search and rescue, drastically increasing the likelihood of a successful outcome."
Southern Lakes Helicopters spokeswoman Erin Robertson said the pair hadn't intended on taking a locator beacon, but were talked into it by the wife of one of the men.
"They had just been planning to take a radio, but there's no guarantee there will be reception, and given they were going to be away for a considerable period, if something went wrong it would be some time before anyone would be able to assist," she said.
The man was transferred to Invercargill by the rescue helicopter and is now recovering at home.
- APNZ