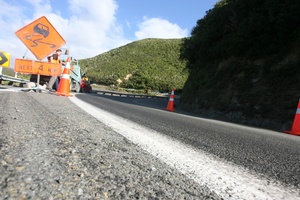 A woman who was lost on the Rimutaka Hill for at least eight hours after her car veered off the road last night was "remarkably'' uninjured, and even retained her sense of humour.
Emergency services were contacted about a car leaving State Highway 2 on the Featherston side of Rimutaka Hill, north of Wellington, about 10pm and an aerial and land search had been initiated by midnight.
Westpac Rescue Helicopter crew member Dave Greenberg said land searchers found the woman, thought to be aged about 50, at 6am, some 100m from the road.
"It was quite steep. She'd gone through a fence, the car went down through the bush probably about 50m or something like that and then she was found about the same distance below the car.
"It sounds like she had got out of the car and was disorientated and walked down instead of up the hill.''
She was winched off the hill by rescue helicopter about 7.30am.
She was assessed as being in a stable condition upon arrival at Wellington Hospital.
"Remarkably she was pretty uninjured, other than hypothermia. The search and rescue people did really well trying to warm her up and gave her a good overcoat and yellow rain pants for warmth. She kind of laughed at yellow not being her colour. It's always good when people can smile after something like that,'' Mr Greenberg said.
"She was very thankful.''
A police spokesman said inquiries were being carried out into what caused the crash.
- APNZ