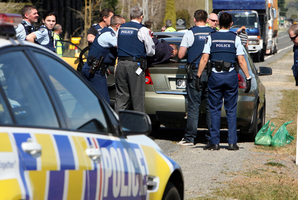 A man who was tasered after crashing a stolen vehicle while drunk during a police pursuit in the Hawkes Bay has been found guilty of charges arising from the incident.
Matthew Hemi Timu, 36, appeared in the Hastings District Court this week.
It is understood police were called about midday on September 14 to a domestic dispute at an Anderson Rd address near Pakipaki before Timu fled in the vehicle.
Police pursued the vehicle for about 6km along Mangaroa Rd and on to Pakipaki Rd where witnesses said he ignored oncoming traffic and turned right on to the highway, south towards Pakipaki. Three cars travelling in the opposite direction had to brake to avoid colliding with the van, resulting in a three-vehicle nose-to-tail collision. Officers tasered Timu after he resisted arrest.
He was remanded in custody for sentence next month on charges of assault, reckless driving, driving while disqualified, drink-driving, failing to stop, three counts of breaching protection orders, theft of a motor vehicle, assaulting police and resisting arrest.
For more articles from this region, go to Hawkes Bay Today