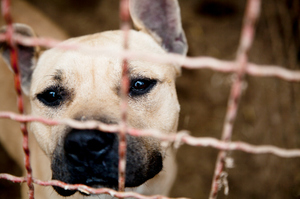 A dog that bit a Tauranga runner has been handed over to the pound and is likely to be euthanised.
Tauranga City Council animal services leader Brent Lincoln said the owners surrendered the shar-pei cross yesterday.
It is now being housed at the pound while the investigation continues.
"The dog has been surrendered to the council and will most likely be euthanised by the weekend," he said.
Mr Lincoln said a final decision on legal action had not yet been made.
"There will be other measures taken but the decision as to what those measures are has not been taken yet."
The dog involved in the attack had not been previously reported to the council for aggressive behaviour.
A second dog was also involved, although it did not bite the runner, Stephanie Brebner.
Mr Lincoln said it had not yet been established whether the other dog rushed at Ms Brebner or if it was simply roaming.
Once the investigation is complete a decision will be made on what action to take in regard to the second dog.
Tauranga SPCA inspector Jason Blair said he had received previous complaints about treatment of the dogs.
Mr Blair said he had visited the property about four times in a short period but found only minor concerns.
One dog was chained to the kennel, which is not illegal but not the SPCA's preferred method of treatment.
The attack followed a similar case on Saturday in which three dogs, a mastiff-cross, a bull terrier-cross and a border collie-cross killed two cats in Welcome Bay.
"This has stirred up a lot of paranoia about whether the dogs are still out there," said Mr Lincoln. He wanted to reassure the public the dogs involved in both attacks "are in the pound".
Mr Lincoln believed the animals involved in the Welcome Bay attacks would also be euthanised.
"At this stage, one has been surrendered and we are working on ownership issues with the other two but that is highly likely."
For more articles from this region, go to Bay of Plenty Times