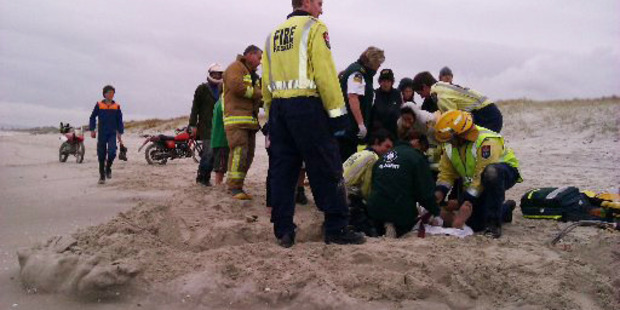 The injured teenager being attended to by St John paramedics inside a sand wall that volunteer firefighters erected at Ruakaka Beach. Photo / Mark Going
A heroic rescue effort at a popular Whangarei beach saw firefighters erect a sand wall around an injured teenager for protection against high tide while paramedics worked to save the victim.
The drama unfolded at Ruakaka beach about 3pm yesterday after St John paramedics at Bream Bay and two fire trucks responded to an emergency callout.
A boy's 15th birthday celebrations turned sour after he fell off a motorcycle and its gear lever became embedded in his calf muscle.
He was visiting Northland from Wellington and was riding a motorcycle with friends.
St John intensive care paramedic Mark Going, medical personnel, firefighters and members of the public ran into difficulty trying to extract the gear lever from his leg.
"Rather than pull it [the lever] out, we left it in its place and let the fire service remove it from the bike," Mr Going said.
Firefighters from Ruakaka had a trick up their sleeves to give rescuers more time as the tide came rushing in.
"They built a sand wall to stop the waves coming in."
Mr Going said a hacksaw was produced in a bid to sever the bike's gear lever but it failed because "the gear lever has the strength of steel".
The firefighters then cut the lever using the jaws of life, a cutting device used to extract people from cars during accidents.
Mr Going said the boy was conscious throughout the rescue and pain relief was administered to him.
Once the gear level was cut from the motorcycle, he was carried from the beach on to a waiting ambulance and taken to Whangarei Hospital.
"Moving the bike and him could have caused the boy pain and further injury," Mr Going said. He described the boy's injury as moderate.
The boy was lucky the gear level did not land on something vulnerable such as an artery, he said.
Ruakaka Volunteer Fire Brigade station officer Jeff D'Ath said that it was pleasing to see equipment such as the jaws of life, purchased through public donation, used for the benefit of the community.
He said the unpredictable nature of their work as volunteers was what made it unique.
"It's what you call the Kiwi ingenuity - to make the best out of situations with minimum resources," he said, referring to the erection of a sand wall and cutting off the gear lever.
for more articles from this region, go to NORTHERN ADVOCATE