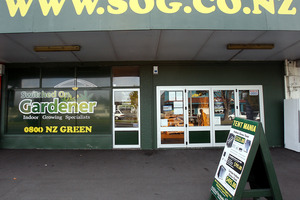 File photo / Mark McKeown
An undercover police officer drew up a fake CV and applied for a job at Switched on Gardener as part of a police covert operation, a court has been told.
The officer, named only as "Jamie", gave evidence in Auckland District Court today about wearing a recording device when he was interviewed by the Tauranga Switched on Gardener store manager and answering a series of questions about his age, criminal history and hydroponics experience.
Michael Maurice Quinlan - the owner of Switched on Gardener, is alleged to have been the head of what the Crown describes as a "one-stop shop" for cannabis growing equipment.
His two companies, Stoneware 91 Ltd and Hydroponics Wholesalers, together with general manager Peter John Bennett, business development manager Ricky Cochrane, distribution manager Andrew Barry Mai and South Island manager Paul Kenneth Barlow are accused of belonging to an organised criminal group and supplying equipment used to grow cannabis.
The shop manager told Jamie there was a range of people who came through the shop and his customers included "straights" and older people. One customer could spend $2 and the next person could have $5000 cash on them, the court was told.
The manager also asked the officer about his work history. "No personal work attitudes? You haven't beaten up the boss or anything?" he asked.
He went on to ask Jamie if he had ever worked for "any government department - fire, police - anything like that?"
The officer said he had not. He said he was working as a contract cleaner in Auckland but was looking to move to Tauranga.
The manager also asked if it was OK to do a police check. "I've employed previous staff who have had a really bad criminal record and before long they're wrecking the store."
The officer said he had no problem with the check and his record would only show a couple of traffic fines.
He was questioned about hydroponics and asked what he would be able to do for the company.
The officer replied: "I'm pretty reliable in my time keeping and I can manage stock."
Under cross-examination from Quinlan's lawyer Paul Davison QC, Jamie confirmed that he had tried to get the job but did not make the shortlist and received a phone message from the manager advising him that he had not got the job.
The trial, before a jury of eight women and four men, is in its second week and is due to run for a further seven weeks.