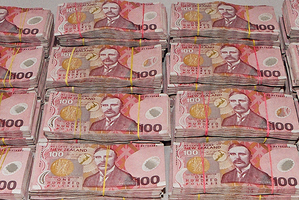 A Tokoroa woman has been ordered to repay more than $12,000 she stole from her former employer.
Jessica Maria Kelly, 28, who now works at The Warehouse in Tokoroa, appeared in the Rotorua District Court for sentencing this week after being found guilty by a jury on nine charges of theft.
Judge Chris McGuire sentenced Kelly to 200 hours' community work and ordered her to pay reparation of $12,292.73 which she stole from Tokoroa's Spectrum Pharmacy. Kelly has to repay the money at $50 a week.
Judge McGuire said Kelly, who was employed as an office administrator, stole money on nine separate occasions between August 2007 and May 2008. She would take the money from the till and complete banking forms and deposit forms and then take the money to the BNZ bank.
Kelly acknowledged that she took the money to the bank but offered no explanation as to how the money did not end up in the pharmacy's account.
Kelly's lawyer, Paul Fisher, asked that Kelly be discharged without conviction and be ordered to pay reparation.
Mr Fisher said Kelly had been working at The Warehouse and referred to a number of references written in support of his client. Mr Fisher said a conviction would outweigh the consequences.
Judge McGuire said the owners of the pharmacy had to re-mortgage their family home and then were forced to sell it.
The offending was too serious to not convict Kelly, he said.
For more articles from this region, go to Rotorua Daily Post